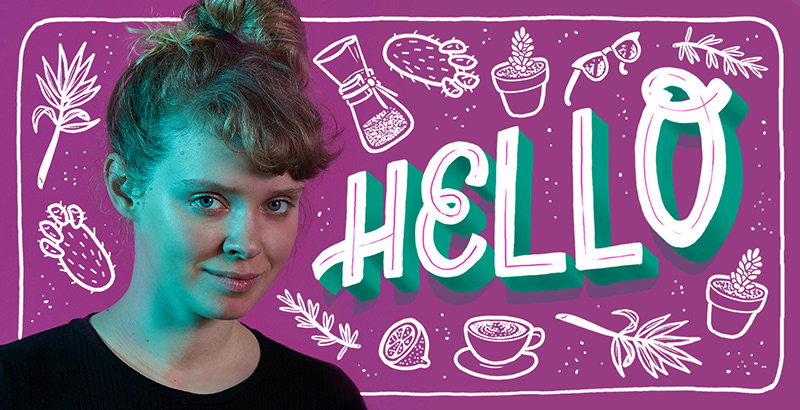 Who is she?
»Vikunia« is the creative studio of Viktoria Cichoń in Berlin Neukölln, Germany. She creates all sorts of illustrative artworks combined with hand-lettered designs for print or online use as well as painted (live) on large surfaces like windows or walls; she is also open to new challenges. She runs on third wave coffee, grows way too many succulents and can't help but praise random dogs on the street. 
A vicuña is a kind of lama but also a polish nickname for Viktoria.
She is part of the design collective The Boys Club in Berlin.
Represented in Germany, Switzerland and Austria by art act
Eva Witt-Braedt, Tel.: 089 33 60 11, 
mail@art-act.de
Contact form
Thank you, sounds great. We'll be in touch!
Selected clients
betahaus, Bikini Berlin, Google, Immowelt, J.M. Smucker, PACE, Snap, Scout24, Staatsballett Berlin, Penny/Rewe Group, Tchibo, Thalia, Uni Potsdam, VW, Audi, Velux, Stadt Nürnberg, Zeit Magazin, Zeit Wissen etc
Vita
Viktoria graduated in 2014  from Georg-Simon-Ohm University of Applied Science in Nuremberg with a bachelor's degree in illustration. She interned at
anschlaege.de
 and worked together with 
Klub7 artist collective
. 2019 she founded the design collective
The Boys Club
 in Berlin, Neukölln together with 5 creatives. She has been freelancing ever since. 
Exhibitons
06/2019 Group exhibition for 48h Neukölln at The Boys Club, Berlin
08/2017 Group exhibition at Galerie Eisdiele, Nuremberg
06/2016 Exhibition at 
NeuZwei
 Neukölln, Berlin
05/2016 ShowUsYourType-Submission at Typo Talks, Berlin
05/2016 ShowUsYourType-Submission at Kulturspace's exhibition at The Secret Garden, Berlin
11/2015 
vickykristinaberlin
 launch and exhibition
07/2014 Sommerkollektion 2014 at Quelle Nuremberg
02/2014 Bachelor exhibition at Georg-Simon-Ohm University of Applied Science
10/2013 Salon Regina GoHo 2013 Nuremberg
07/2013 Sommerkollektion 2013 at Quelle Nuremberg
06/2013 Designer's Night 6 at Georg-Simon-Ohm University of Applied Science
08/2012 Mitte Soundbar Nuremberg
07/2012 Designer's Night 5 at Georg-Simon-Ohm University of Applied Science
Imprint
Viktoria Cichoń
c/o Cichon Wedel GbR / The Boys Club
Weisestraße 27
12049 Berlin